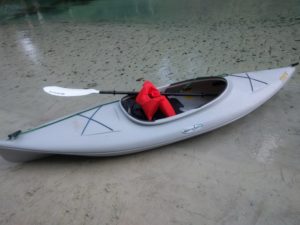 A lot of us pretend to be experts. "Fake it to make it" seems to work for many, but I can only tell you what I know.
Although longer kayaks are great for lakes and other more open water, anything much more than 10 feet will be rough going on some of the narrower runs. My boat is 9'4″ and it was still into the bank on Juniper Springs Creek and into the mangroves at Weedon Island.
Shorter boats don't track well. I'm on my 4th boat, and it's the first under 12 feet that I can safely coast in a straight line. If the underside of the boat is perfectly smooth, it's probably going to turn too easily and when you least want it to.
Learn as much as possible. I live on Paddling.net, love their free "Go Paddling" app, and research YouTube and other sites for user opinions.
Don't buy new if you can help it. Inevitably someone will decide it's time to upgrade, and sell for a reasonable price (see #3 about researching before you buy). This can get expensive, or you can be smart
Be safe. Plenty of great advice and some LAWS you need to be aware of. Since I'm writing for Florida: http://myfwc.com/boating/safety-education/equipment/vessels-under-16-feet/

Not common knowledge, but you need a whistle. Just clip it to your PDF.
Carry a PFD. For adults, it's probably enough to have it in the boat.
Lights are required from dusk through dawn.
Leave the manatees alone! $50,000 fine!
Tell someone on dry land your plans and check out and back with them before and after your trip.

Dry bags are great. I also carry a "phone pouch" so I can take photos. As this grows, I may be upgrading to a better camera, or stealing my kid's GoPro!
Please bring a trash bag. A lot of your trips will be free, or super cheap (the cost of gas and $5 or $6 dollars for a State Park admission), so give something back by cleaning up a little of the trash. I constantly forget the bag, and boat gets a little muddy inside!
Sunscreen. Believe it or not, this is about to get contentious. Hawaii is set to ban sunscreens containing oxybenzone and some other ingredients due to the damage they cause to coral reefs. NPR has a great post on some other options: https://www.npr.org/sections/health-shots/2018/07/02/624379378/many-common-sunscreens-may-harm-coral-heres-what-to-use-instead
Water shirts (ventilate better than cotton), swim trunks, water shoes, a hat, and a "cool towel" will all protect you from the sun and make your experience more enjoyable.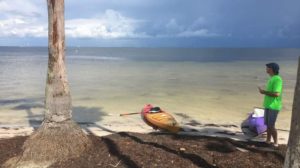 10. Paddles. I don't know what to tell you. You're going to have to find what works best for you. Paddling.net guide to choosing a paddle: https://paddling.com/gear/category/accessories/paddles/paddles/
The point of all of this is the better prepared you are beforehand, the more you can just enjoy the float. If you find the equipment is a distraction, make a change. Get rid of it, upgrade it, whatever puts it behind you. I followed most of the strategies above, and still bought 3 other boats before I found 1 I absolutely love.